How can manufacturing SMEs benefit from 360° asset management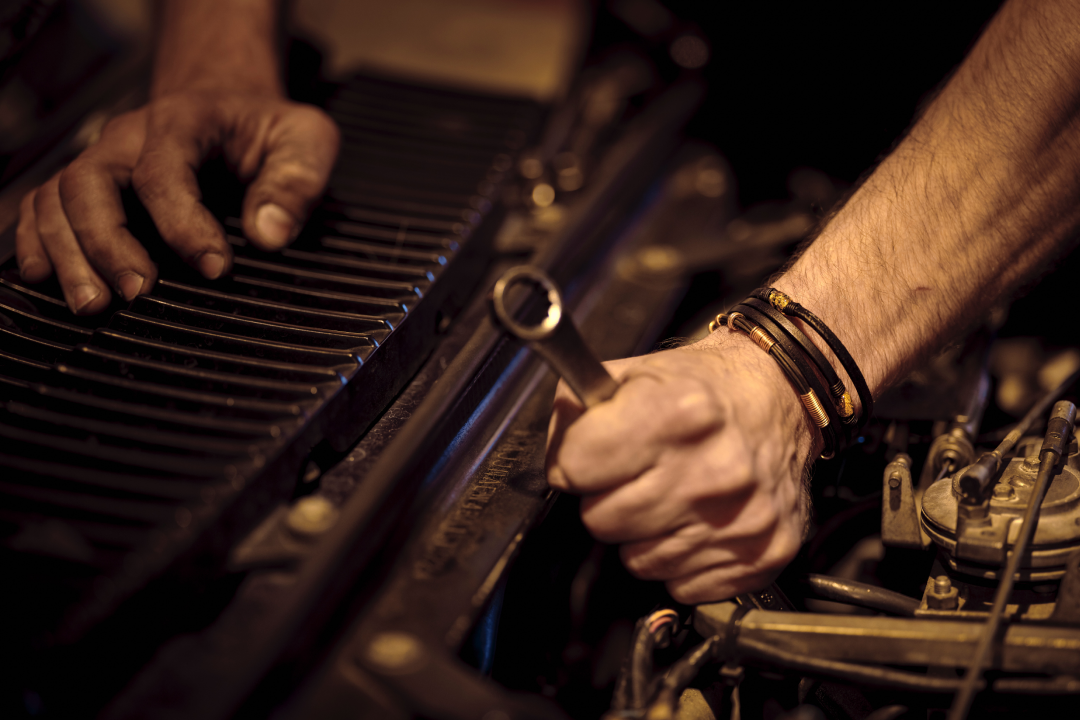 You've probably read about industry 4.0. It's the concept of a fourth industrial revolution, driven by intelligent digital technologies which create smart factories, production hubs capable of automating core functions and minimising unplanned outages. According to McKinsey, the Covid-19 pandemic has created an "inflection point" for the adoption of 4.0 technologies in the manufacturing space.
The heartbeat of Industry 4.0 isn't Big Data, artificial intelligence and machine learning (although of course, they're important). No, it's the Internet of Things, the network of intelligent devices which are connected to the internet. Global spending on IoT is increasing at a rate of more than 10% a year and the technology is crucial to the new breed of smart asset management solutions, which enable companies to pool all their data into a single platform.
In this blog post, we're going to talk about how asset tracking technology can help manufacturing and maintenance service businesses:
Collaborate in the new, remote normal.
Keep track of their various assets.
Streamline their operations.
And achieve the holy grail: predictive maintenance.
A world of challenges
Manufacturers are being tested as never before. Stéphane Souchet, Global Sector Head, KPMG International
2021 is a pivotal year for both the manufacturing industry and the maintenance companies that serve it.
These two highly mature sectors are facing fundamental challenges around the way they work, as the digital revolution creates unprecedented demand for smarter analytics and faster ways of working. And this challenge has, of course, been exacerbated by Covid-19.
Existing challenge: Managing a wide range of physical assets with different needs
Both manufacturing and maintenance companies rely on a huge volume of assets to keep moving. As the two industries have expanded, so the volume of assets has grown.
Each asset class has its own unique operational challenges, which require skillful management – particularly from SMEs which lack technical and digital resources.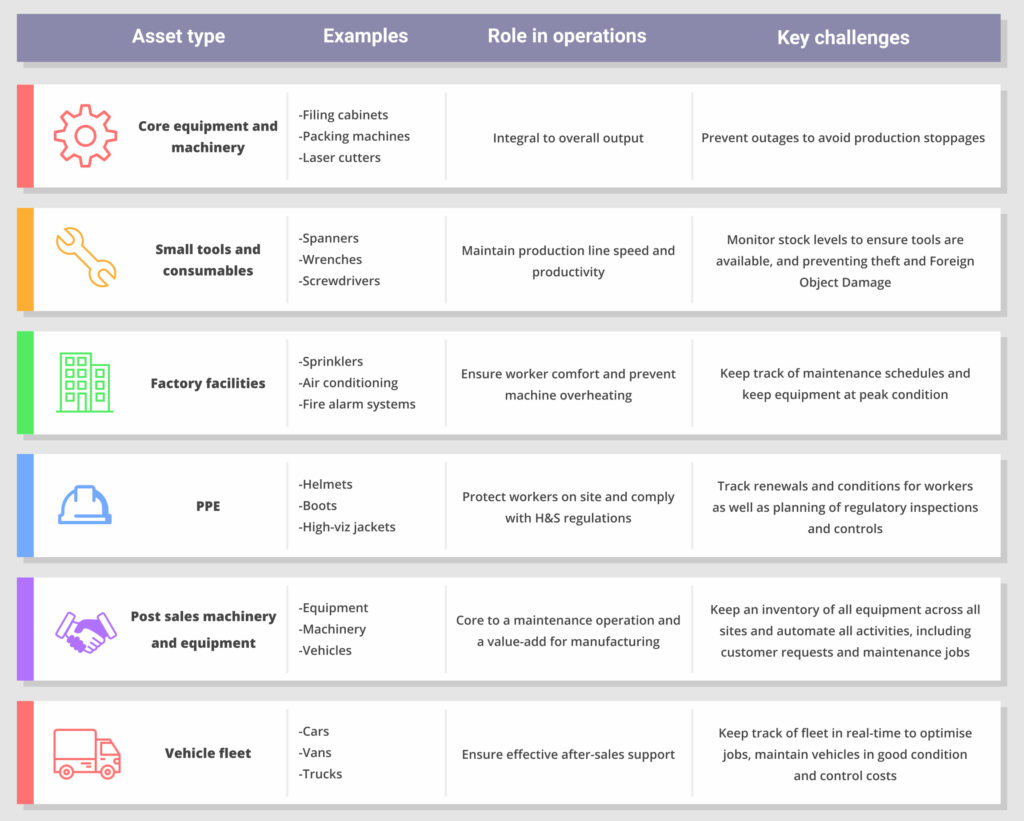 Challenges in the new normal
Many manufacturing and maintenance firms are now having to embrace new ways of working, a challenge made even more onerous by lockdown.
Distributed working

The move to remote and hybrid working has challenged the way manufacturing and maintenance companies operate. Shift patterns are now more varied than ever before, raising the risk of both asset theft and workflow logjams.

Skills shortages

The swathe of new digital technologies has created gaps that many companies can't fill. In fact over 80% of UK manufacturers now say they struggle to find workers with the right skills to fill key roles. In the wake of the pandemic, this challenge is becoming even greater.

Data volumes

Manufacturing operations produce more data than ever – but utilise only a fraction. According to IBM, the average factory now generates 1 terabyte of data (that's 1 million megabytes) per day – but can only analyze 1% of it in real-time. With staff now spread across different locations, it is easy for damaging data silos to develop.

Rising cost of outages

As the value of manufacturing output continues to grow, so does the cost of outages. According to research carried out in the U.S., unplanned outages now cost the average company £190,000 every single hour. Yet many maintenance employees are now working off-site, and companies are struggling to create virtual management strategies. According to a report from the World Economic Forum in May 2021, just 46% of manufacturing firms have enacted effective remote monitoring programmes.
Where Asset Inventory & Management comes in
By continuing to invest in digital initiatives across their production process and supply network, manufacturers can respond to the disruptions caused by the pandemic and build resilience that can enable them to thrive. Deloitte report, 2021
Asset Management can help companies of all sizes adapt to the challenges mentioned above, particularly SMEs which need to jump-start their adaption process.
The core benefit of Asset Management is the 360-degree panorama it offers over a company's entire asset base. Using IoT devices connected to each asset, an Asset Management platform can pull in data from every single asset, no matter its size or management requirements, to a single platform.
The original Enterprise Asset Management (EAM) products were monolithic, stand-alone desktop products for heavy industries like oil and gas. But today's generation is sleeker, sharper and more mobile-friendly. Usually available as a mobile app, this generation offers a string of additional benefits for both manufacturing and maintenance companies.
Remote collaboration

Asset management mobile apps are ideal for remote and hybrid companies. Workers can book in and check out equipment from the field, minimising asset loss, and can scan images or QR codes to log maintenance information instantly. Customers can make service requests and get updated automatically on the status of their demand.

Real-time location and performance data

The IoT sensors often include location-tracking and geo-fencing features to locate assets instantly and get geofencing alerts. Sensors can also collect asset condition and performance data, so owners and operators can spot problems in real-time.

Fleet optimisation

Using telematics, the part of IoT which transmits information from one device to another, companies can track their vehicles in real-time and allocate maintenance jobs to drivers who are nearby or sitting idle, optimising resources.

Dynamic reporting

Today's generation of EAM solutions are designed to produce rich, interactive reports, enabling busy manufacturing and maintenance bosses to extract the right information quickly and easily.

Proactive analytics

As well as analysing the current usage/fault patterns of manufacturing equipment, Asset Management solutions predict future analytics trends – so owners can make the correct investments and optimise performance.

Integrations

Today's Asset Management solutions are designed to sync, not stand alone. They plug in to existing systems, such as ERP and accounting packages, ensuring cross-fertilisation of data.
These six benefits together allow manufacturing and maintenance companies to move beyond traditional, reactive upkeep and achieve something altogether smarter: predictive maintenance. 
According to some analysts, this can reduce operating costs by 12% and raise uptime by 9%.
All-in-one benefits
When it comes to Asset Inventory and Management, one of the main barriers to entry for manufacturers and maintenance firms, at least up until now, has been the plethora of different software options available.
The original EAM products, which were very much complex and costly, have been phased out in favour of many specialist solutions, and this can create dilemmas when choosing the most appropriate option. Does the manufacturer or maintenance specialist choose a facilities management platform? Or an equipment tracking service? Or even a maintenance scheduling product?
This is a problem that All-in-One Smart Asset Management solutions are designed to solve. This select band of packages can not only save time on choosing between different tools; they also save time on entering the same reference data into different products.
Best of all, they provide a true panorama of the entire company: every single asset, from every part of the business, is sending data to one place. This allows companies to truly understand their asset costs, and answer all their asset-related questions easily.
Simply queries around the availability of equipment, the location of the company fleet or the resources that have been dispatched to customers can all be answered in the same place. Everyone within the company has access to all the information, and can utilise it all in real time.
Where Bulbthings comes in
Bulbthings is leading the new, all-in-one asset management generation. It's an easy, smart and affordable app that helps SMEs  digitalise all their asset-related activities effectively, control their costs and improve their customer service.
For more on how Bulbthings can help your manufacturing and MRO business, visit www.bulbthings.com.
References:
https://iot-analytics.com/2021-global-iot-spending-grow-24-percent/#:~:text=Overall%20enterprise%20Internet%20of%20Things,to%20grow%2024.0%25%20in%202021.
https://www.jjsmanufacturing.com/blog/uk-manufacturing-skills-gap#:~:text=The%20manufacturing%20skills%20gap,-The%20UK%20is&text=Yet%20the%20sector%20is%20currently,qualifications%20to%20fill%20vacant%20roles.
https://www.ibm.com/industries/industrial/resources/business-transformation-interactive/scenes/smart-factory/select/details/production-optimization/#:~:text=The%20average%20factory%20generates%201TB,minimize%20downtime%20and%20maximize%20throughput.&text=Being%20able%20to%20process%20data,you%20quickly%20act%20on%20insights.
https://www.weforum.org/agenda/2021/05/the-future-of-remote-work-for-manufacturing/
https://www2.deloitte.com/us/en/pages/energy-and-resources/articles/manufacturing-industry-outlook.html