September 12, 2021
.
5
mins
How to track my IT and office equipment easily for remote working?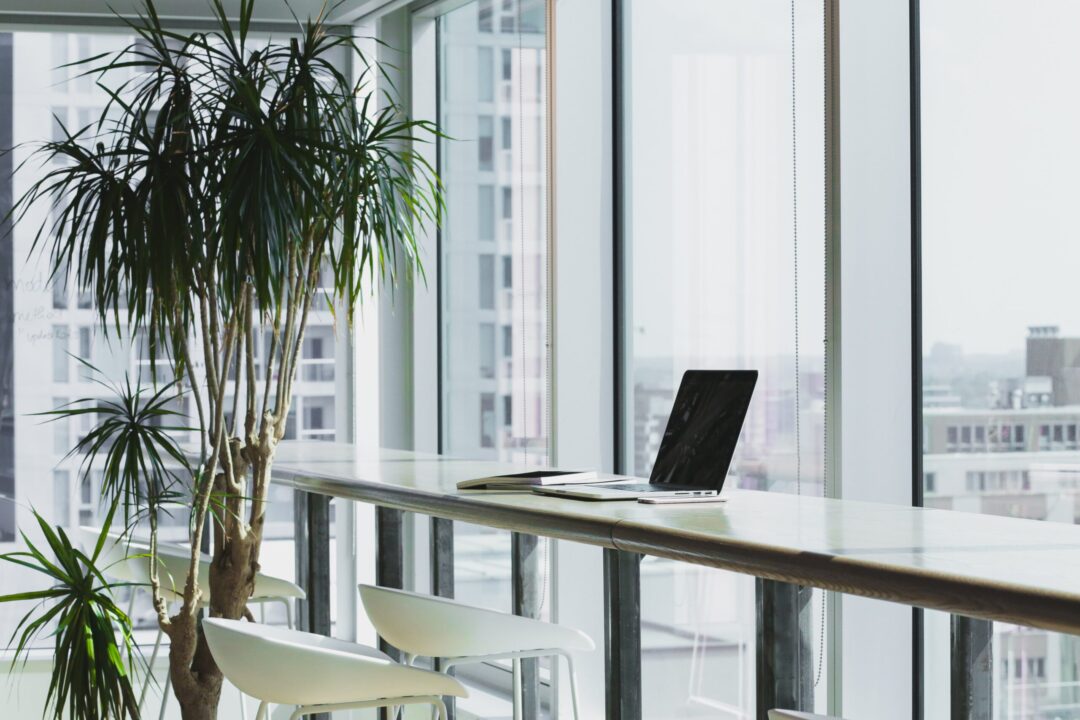 The role of the office has shifted fundamentally in the wake of Covid-19. Once a place of rigid divisions and standardised working hours, the office is now a free and flexible collaboration space where employees come to pool ideas as and when needed. Teams pop up and down on a daily basis to suit the company's changing needs; the idea of fixed workspaces for specific individuals now seems as old-fashioned as fax machines and floppy disks.
But this changing remit brings challenges as well as freedoms. The rise of remote working means we have to track our IT equipment and office supplies remotely, and this can increase the risk of our key assets being damaged, lost and stolen.
In this blog, we're going to show you how asset tracking software, in particular the new breed of smart apps, can allow you to manage your office essentials – your furniture and IT equipment. Specifically, we'll show how it can help you to:
Locate assets in real time
Simplify book-out processes
Keep track of stock and inventory
Achieve predictive, proactive maintenance
The Challenge
Ok, so we all know that remote working has increased during the pandemic. According to the UK's Office for National Statistics, the number of people working from home at least some of the time increased by nearly 10 percentage points in 2020. It's a similar story all over Europe.
But what is less widely-known is that our business supplies are becoming more expensive, too, because of global supply chain disruptions. 
The worldwide shortage in semiconductor chips has raised the cost of laptops and other IT hardware by up to $50. At the same time, a dip in global production capacity has inflated the cost of paper. Rising shipping costs mean that the cheapest office chairs and desks have suddenly become more pricey.
Even if your office is well-stocked, these price increases have ramifications. If your equipment suddenly breaks down, runs out or disappears, it will now cost significantly more to replace than before. And there's a competitiveness cost for much of the equipment, too: research from Gartner tells us that we lose $5,600 (£4,000) for every minute of IT downtime.
So we need to manage our assets meticulously. And that means understand the key types of asset that we control: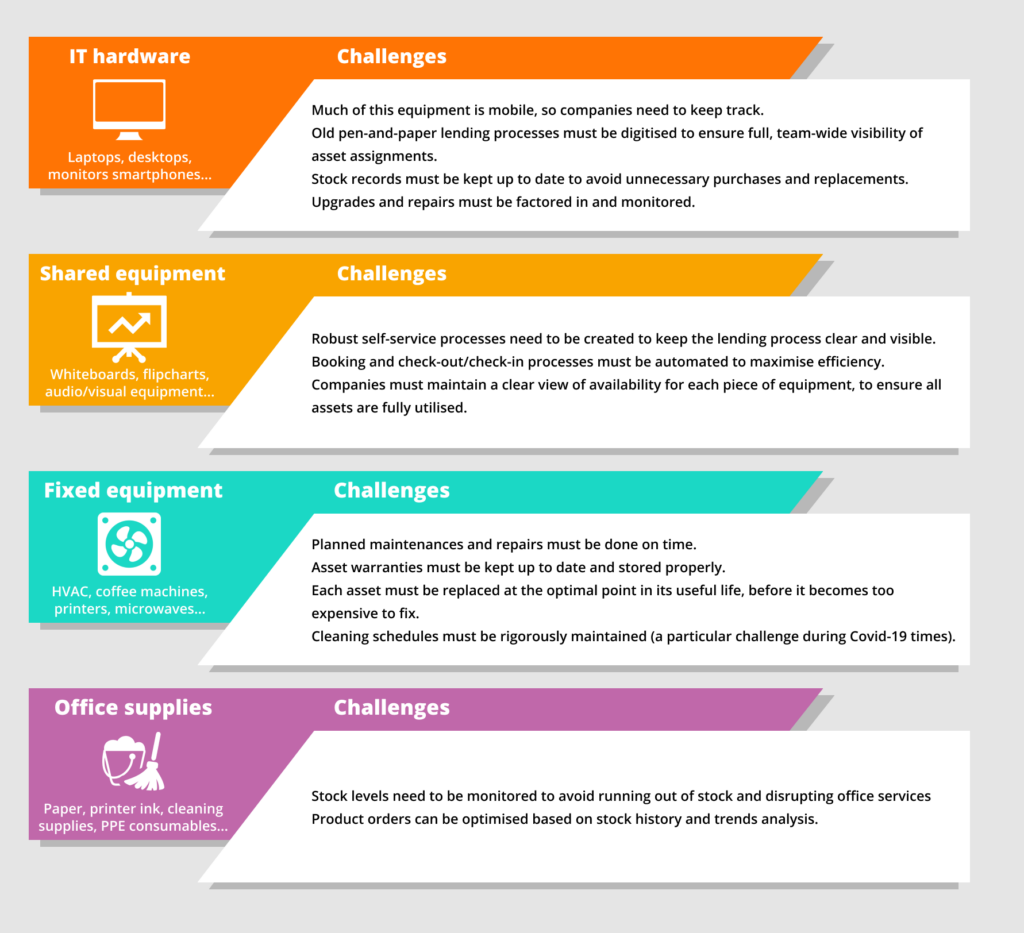 As you can see, these various assets create challenges in five principal areas: monitoring, analysis, process management, digital record-keeping and upkeep.
For any company, particularly an SME with limited resources, they add up to a significant burden. And now, with the move to remote working, the challenge is even greater.
Office managers now have to monitor the provision of equipment to entire teams working from home, ensure the whole company has visibility over the booking process and manage maintenance schedules for assets they never see.
How simple asset Inventory and asset tracking apps can help
The modern breed of asset tracking solutions is designed to be accessible via mobile apps. It often includes Internet of Things (IoT) devices that allow you to get real-time information from assets.
By 2025, over 30 billion devices will be connected to the IoT.
IoT devices can be applied to all kinds of office equipment and building infrastructure. As well as their physical location, these sensors can feed details such as temperature, productivity, output, maintenance status and fault areas. By harnessing the power of IoT connectivity, asset tracking platforms make every device visible to the entire organisation.
Asset tracking apps offer the following key benefits:
Workflow management

Today's asset tracking apps keep the various parties updated with a constant stream of notifications, so each party involved (team, suppliers and office users) can coordinate.

Collaboration from the field

Using QR and image recognition, asset tracking apps allow collaboration everywhere. Team members can scan assets to book them out, update inventory by taking pictures and scan a QR code to log a maintenance issue.

Real-time notifications

As soon as a piece of equipment moves out of range, the asset tracking app will send a notification to all parties, along with a message clarifying the most recent user – so theft and loss can be kept to a minimum.

Smart reports and analytics

Asset tracking apps are designed to deliver crisp, dynamic reports that are accessible to everyone, displaying key utilisation data and cost analysis at a glance.

Environmental monitoring

As well as location and performance data, today's asset tracking solutions can be collected to optimise energy efficiency and maximise the office experience for employees.

Integrations with other equipment

Today's offices rely on a plethora of different software packages, and asset tracking plugs into all of them. From HR platforms to accounting solutions, they can hook up and share data.
Above all, asset inventory and tracking packages enable office managers to move towards the goal of predictive maintenance: in other words, fixing problems before they happen.
Using the rich, real-time data which is provided by the asset tracking platform, an office manager can predict when machines or key equipment are likely to need repair and schedule the upkeep proactively. The benefits are huge: assets can be juggled to anticipate the outage of certain equipment, key data can be backed up and, most importantly, expensive replacement is averted.
The benefits of predictive maintenance are already well-established. According to Deloitte, this pre-emptive upkeep delivers the following benefits:

The next frontier of asset tracking: All-in-One
Now we've discussed the overall benefits of asset tracking software, let's look in more detail at the direction of travel.
The technology has had two specific generations. The first comprised huge enterprise Asset Management (EAM) platforms which were used by heavy industries like Utilities and Energy. The second was defined by a series of smaller, more specific asset management products, which were developed for specialist functions like inventory and stock tracking or maintenance management (CMMS).
Now we are entering the third generation: all-in-one asset management products which have the universal functionality of 1G EAM, but are easier and more affordable.
They offer holistic solutions, covering asset operational and financial management, tailored to each industry. All the core functions of Enterprise Asset Management are there, and they offer a number of benefits over their recent, more specialist rivals.
For one thing, they're far quicker to set up. And we're not just talking about the benefit of installing one general platform rather than several more specialist ones; you also avoid the need to install your reference data (e.g. your locations, your users) various times. Now, you only have to do it once.
What's more, this data isn't just more efficient: it's more visible, too. At a glance, you can see where all your office equipment are; how is holding each of those assets; which pieces of equipment are available in each specific room; and which equipment is coming up for maintenance. In an age which is defined by speed and agility, this kind of information matters, big time.
And, crucially, you can understand the true cost of your entire asset base.
At present, business profit margins are vanishingly small, and this is particularly true of small businesses. In 2020, the median profit margin of a UK SME was just £11,000. Now more than ever, we need to make every penny count.
By understanding the true financial impact of all our assets – their productivity, their utilisation, their maintenance cost – we can ensure we are wringing every last drop of value from each of the assets at our disposal. And, when all's said and done, this is our overarching goal.
The role of our offices may have changed, but the role of our businesses has not. Profit, and efficiency, remain the keystones of success.
About Bulbthings
Bulbthings is the smart 360° asset tracking tool for SMEs. Our easy and flexible app is designed for offices, commercial and industrial premises. No matter the assets held within your offices, Bulbthings will keep them safe, ready and reliable.
For more information, visit the Bulbthings website here.
References:
https://www.ons.gov.uk/employmentandlabourmarket/peopleinwork/labourproductivity/articles/homeworkinghoursrewardsandopportunitiesintheuk2011to2020/2021-04-19
https://www.businessinsider.com/global-chip-shortage-laptops-phones-cost-more-2021-6#:~:text=Laptops%20and%20other%20gadgets%20are,of%20the%20global%20chip%20shortage&text=The%20global%20chip%20shortage%20is,rose%20from%20%24220%20to%20%24250.
https://www.quad.com/resources/documents/paper-market-update-april-2021/
https://www.businessinsider.com/shipping-crisis-cost-toys-furniture-price-goods-increases-2021-6
https://www.statista.com/topics/2637/internet-of-things/#:~:text=The%20installed%20base%20of%20active,U.S.%20dollars%20revenue%20in%202020.
https://www.statista.com/statistics/291299/average-profit-of-smes-in-the-uk-by-enterprise-size/